I was up in bed at half past five, the alarm went an half hour ago. Urgh it was so early. Why did we booked the plane this early again? It seemed like a good idea at that moment. Yes! We were going to Vienna! After splashing cold onto my face, I was awake again. Because of the overweight luggages we repacked it yesterday. I was so glad to start packing in the weekend wasn't looking forward to our walk to the train station. There weren't any tram this early. We just made in time to catch the train without hurrying up too much hurry, also we shouldn't had walked few minute slower.
I've learned a lot about packing luggage for flying to a con. Ditch everything that you think that you might use. In the end you will never use it. Also ditch everything that you can buy over there and isn't not too expensive. Needless to say, find an alternative for metal parts for table setup. I wanted a have a light weighted setup, but didn't want have a simple setup. I borrowed the interlocking plastic sheet from a friend (was already looking into a purple set for myself).
We arrived too early to the airport so we were having a breakfast. And also trying out my travel wallet. It was big, but fit a lot.
My carry on bag was stuffed a lot of con setup stuff,  like led display and metal hooks, otherwise the check-in luggage would be too heavy. I forgot to get those stuff out of security check and got some trouble through the scanner. The security guy was surprise what he saw, what did he knew lol. It wasn't anything dangerous, so he let me go. He was super friendly all the time and we laugh at giving him so much work.
Tip: try to put as less as metal stuff as possible, preferably things what weight more then clothes. Also if you fly with budget airline, check your luggage weights even the carry on.
The flight was so crowded and was fully booked! And look at big ass engine and the lovely weather.
We can book special train tickets to go directly to Vienna center without any stop. A return costed 21 euro a person and you would be in Vienna in 16 minutes. They also provide services to look after your luggage or check in if you want to walk around before going to the airport.
The machines only accepts credit card. There are outside also services for the s-bahn. We took the CAT, for a little comfort, it was still a bit holiday for us.
A few more information about public transport from the airport to the city:
There are 3 modes of transportation available when travelling from Vienna International airport (VIE) to the city centre of Vienna: Taxi, Train and Bus. Hiring a Vienna airport taxi will cost approximately 36€ and it will only take 20 minutes to reach the downtown area of Vienna. When it comes to travelling by train, travelers have 2 options. You can either take the City Airport Train (CAT) or the public Schnellbahn S7. Tickets for the City Airport Train cost 12€ and the ride takes 16 minutes, whereas tickets for the public S7 cost only 3.90€ and the average travel time is 25 minutes. Buses can also provide cheap and fast services. Bus tickets cost only 8€ and the journey takes 20 minutes.
From Landstrass, end station of CAT, change S-bahn to Praterstern and got of there. The public transport was very convenient and defiantly didn't take long to go from A to B. After Praterstern, we took a 500 m walk with heavy luggage to the hotel. No fun, but doable. Ibis business hotel was a little fancier and next to the ibis budget lol. We were cheap and went to the budget one. On the way we saw bakery, which also opened at Sunday! (yay!)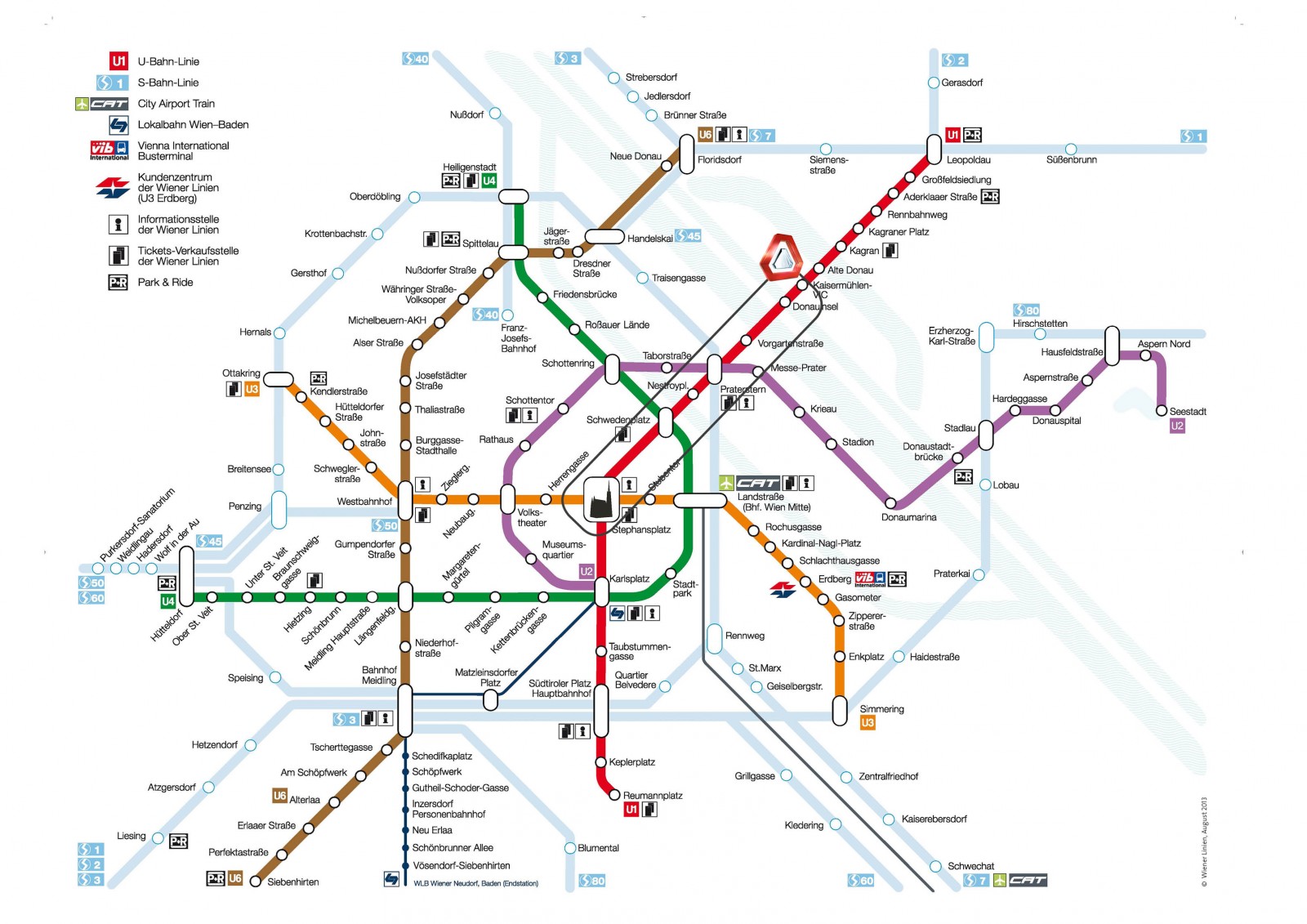 Together, the time we took from the plane to the hotel was two hours, but I think it was also possible in an half hour more or less.
The budget hotel is really a budget hotel. The bathroom is in the sleeping room with walls, but I don't complain, still need my dyer though.
We decided to buy a 72hour ticket after all, so we can move freely without thinking to buy travel ticket. There are less ticket checkers btw compared to home. The public transport in Vienna is great. In the end, no one checked our tickets.
There is so much to see in Vienna and had some nice food.